Wed, 25 November 2009
Up a Paddle - Episode 83 - Say Hi To The People In Jersey For Me
This week I talk about an unlikely marriage, playing with plastic, and rocking out. I also review DJ Hero and Legend of Black Heaven.
News
Otaku marries his 2D girlfriend. Yeah, it's all pixellated roses now, but just wait until he cheats on her with a love pillow. Then it will get nasty. Because as experts can attest, love pillows can get quite filthy if not washed regularly.

At least this story gave me an excuse to post yet another video with the Super Mario Bros theme. This one features tesla coils!

Fun thing of the Episode
AKA the video I forgot to mention
The Muppets: Bohemian Rhapsody
p>
They even brought back the Mahna Mahna guys!
Reviews
DJ Hero

I feel somewhat proud of myself for not referencing Short Circuit 2.
They need to mash up that song with something, pronto.

Legend of Black Heaven
Since the opening theme doesn't give you a good idea of the animation style in the show (or humor), this AMV will have to suffice.


Contact Info
You can email me at upapaddle@gmail.com, follow me on twitter at http://twitter.com/upapaddle or leave me an iTunes review.
If you leave me one, I'll leave you one.
Promotional Consideration given to:
RPG Lamer - Releasing another episode of RPGLamer would be yes? I know you're reading this, Jake. Get to it. Chop Chop. Equip your boots of escaping and start table top gaming if you have to. Lightning Bolt! Lightning Bolt!

Anime Pacific - I know this discussion is a month old at this point, but check out "Who should play Major Motoko Kusanagi in the Hollywood Ghost in the Shell movie?" as Alex put a lot of work into that article.
And then I added asinine comments, as I am wont to do.

I really don't have a preference at this point as to who should play the Major. I'd like a Asian actress to play her, given that's her character in the manga and movies, but since this is a major Hollywood movie, that's not going to happen. Just as long as it's not Kristen Kreuk. I do think Clancy Brown might make a good Batou, though.

Also, check out Dane's articles on Soviet Animation and Foreign Films. Good stuff.
Lathers Blathers - After six months, Rich "Lather" Tatarek has come out of hiding and has graced us with another episode. Fignuts. I was enjoying having marginally higher feedburner statistics than him. I guess it goes to show the relative qualities of our shows. I'd be petty and start arching him but I'm already being petty and arching Anime Pacific, and I don't have time for two archenemies. Ah well.

Musical Accompaniment
The song played was Rock N Roll Man by Mr. Nasty

Thanks for listening!
---
Sun, 15 November 2009
Up a Paddle - Episode 82 - Busting Makes Me Feel Good
This week I talk about the "dark spectre of moe"*, manga possessing your cell phone and I review Ghostbusters for the PS3.
News
According to one poll, otaku guys prefer moe and otaku gals prefer robot shows. I have obtained a video of the horrible future that will result when the two ideas are inevitably combined to form a marketing juggernaut in Japan:


Shueisha to sell manga on US Phones next year. If I had bothered to re-read the article before talking about it on the podcast, I would have realized that Shueisha is partnering up with Microsoft to do this, so their manga will most likely not be appearing on the iPhone. Nuts, and I'm all set to get one when my current contract expires.

Fun Video of the Episode
I didn't actually mention this video in the episode but I think it's fitting.

Ghostbusters - The Premake


Speaking of spooky movies from the 40's, does anyone know where I can find a copy of Gildersleeve's Ghost? I caught part of it late on Halloween night and I want to see the rest. There was an invisible woman and a gorilla for some reason.

Review
Ghostbusters: The Game


And for the curious amongst you, this is what the Filmation version of the Ghostbusters was like:


It was an all right cartoon but it just wasn't the Ghostbusters.

EDIT: In my review I said that Ray Gossett Jr. did the Ghostbusters theme. This is wrong. Ray Parker Jr. did the theme. I'm not sure why I got those names mixed up.

Contact Info
You can email me at upapaddle@gmail.com and check out my Twitter feed at http://twitter.com/upapaddle.
Promotional Consideration given to:
Playswitch.com - Listen to hear a promo code for 5 free Switchbucks when you sign up

Anime 82 - Regan, release another episode already, dammit! Also, release a single from your band Nero.

Musical Accompaniment:
The Ghost in Room 11 by Bob

Thanks for listening!

* I can't remember if AWO or Fast Karate coined that particular phrase, but one of them deserves the credit for that particular phrase.
---
Sat, 7 November 2009
Up a Paddle - Episode 81 - A Yokai
(It has to be pronounced A-OK in order for the joke to work ... which it doesn't).

This week I talk about pandas and their relevance to my gaming purchases, Leggo my Lego, the seeing of the Astro boy movie (because I told you to damn it), and I also review Hakaba Kitaro just in time for Halloween ... next year.
Preamble
Happy Belated Halloween everyone!
Check out this costume. This could have been me.


News
Blizzard to add new pets to World of Warcraft. They cost real money like real pets, but less mess.
- Here's one in action:



Lego Mario - That's a lot of Lego. I must have one.
- Here's a previous attempt at Mario in Lego form
- Also, not stop motion but still neat

Astro Boy - the movie not doing so well. I can't help but think that my review has something to do with the poor sales. Yes, I'm that delusional. Check it out if you get a chance.
Fun video of the Episode:
The Horribly Slow Murderer with the Extremely Inefficient Weapon


Warning: The previous video contains salty language, scenes of violence, and adult situations. View discretion is advised.

Site News
I have aquired Up a Padddle's first ever site deal! If you listen to this episode, you will hear a promo code for 5 free Switch Bucks from Playswitch.com. If you're in the states, I implore you to try it out. Who knows when I'll be able to secure another promo deal like this.

Also, listen to the Playswitch.com podcast. Good stuff.
Angry Dome
Audio promos and you, the podcaster.

Review
Hakaba Kitaro

How can you not want to watch that show after seeing that opening.
If you'd like to learn more about the yokai, check out the following links:
- Yokai a Day
- Obakemono Project
And here's the second costume idea I could have used (Thanks Bob)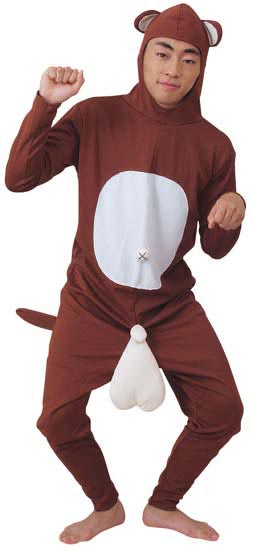 The Majestic Tanuki in all its Splendor
Contact Info
You can email me at upapaddle@gmail.com and follow me on twitter at http://twitter.com/upapaddle.
Also, there's a special deal from http://playswitch.com waiting for you if you listen to this episode. Nifty!
Promotional Consideration given to:
Anime World Order - If you get chance (and chances are you have already), listen to their "Old Timers of Anime" segments. Let it take you back to a time when men were men and the women were too.

As it is, I fear for the otaku of today, what with guys liking moe and girls liking the robit shows.
Eeepers Choice (http://eeeperschoice.com and http://capricorntheater.com) - Yes, I know Eeeper hasn't released an episode of either of his podcasts in quite a while but I decided to play his promo anyway. After intensive study of mythology, I've come to the conclusion that his podcasts are dead because we don't believe enough. Clap with me children, Clap! I believe in potatoes! I believe in potatoes!

If you haven't yet, check out Eeeper's interview with Helen McCarthy. Good stuff.
And just think, this could be your promo played next episode if you only make it readily available on your site.
Musical accompaniment provided by:
Happy Halloween by Ben Twisted

Thanks for listening!

---